Hi everyone! I'm semi-new here, and I thought I'd finally get around to posting some pictures of my Syrian, Popcorn.
She's a tiny little Syrian. I'm not sure if she's just a runt or what, but she's at least 3 - 4 months old, if not older.
In "ham jail" (a playpen which turned out to be easily escapable):
Forgetting how to use her legs as she gets out of her wheel: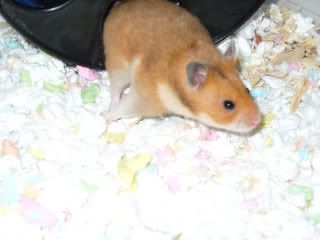 Looking oddly cheerful. She's usually rather stoic:
Being her usual super-serious self.