Hamster Basics! So you want to learn how to tame your hammie?
These techniques are especially good for the timid or newbie hamster owner! Experienced hamster owners may find this a slow process.
Well, you have just bought your first hamster and now you have no idea what to do! Don't worry, we have all been there! I have tried to create a little training manual from things I have learned, which have helped me greatly.
Coming Home:
1. First of all, you must realize that when you first bring home your hammie you must resist the temptation to try and play with it. Your hammie needs time to acclimate itself to you and its new surroundings.
2. For the three days, place your hammie in its cage and just leave it alone. Do not play with it.just LEAVE IT ALONE! Most hamsters will become stressed upon coming into an new environment, dwarfs or syrians. But, for syrians, they can come down with Wet Tail the first few days of arriving at their new home because of the stress. All animals need time to adjust in order to feel feel comfortable....just as you would if moving into a new home. There are new sounds to learn and new people all around you to get used to.
3. On the fourth day, try introducing scented tissue. This means tissue that has your scent on it. For girls this is simple. Just put a little tissue in your bra for a few hours and then place it in your hamster's cage. For guys well, tuck it in your sock or something! We'll let you decide where to put it!
4. Give your hammie new tissue each day with your scent on it. What this is doing is letting your hamster get to know you by your smell. This is a very good idea because this way when you start to play with your hammie, then hopefully because it knows your scent, you won't get bitten! We still give our girl who is over a year old scented tissue just to make sure she knows she's part of the family and to make her feel comfortable!
5. Why you are using the tissue method on the 4th and 5th day (and as long as you need to use this method continue to do so) also begin feeding your hammie hand treats. I would really like to stress the importance of healthy treats! Sunflower seeds and pumpkins, although yummy treats, are fattening. Yogurt drops and commercial pet treats generally contain too much sugar. Therefore I like veggies! My girl's personal favorite our baby peas. I keep a few of them on hand at all times to help with taming. Carrots also work well. Avoid giving too many fruits also. The key to any fruit/vegetable is moderation.
NOW ON TO THE TAMING LESSONS:
Day 1:
I have certain items that I really like to use when taming such as: a hamster ball, a detergent lid, and a play tub filled with toys and a playpen.
1. To start with use your hamster ball by placing it next to your cage door and let your hamster crawl into it on its own. Be patient.this may take a while!
2. Next lower the ball into the play tub and give your hamster time to go out on his own and explore his new surroundings. See picture: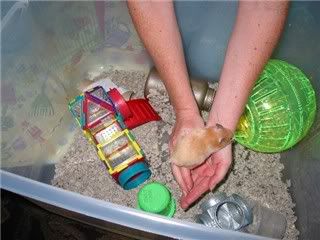 3. Next try giving a hand treat to bribe your hammie with. Lay your hand on the bottom of the tub giving your hamster time to become familiar with you. Remember: your hamster can only trust you if you trust your hamster! So please try not to be frightened that he might bite you. If you're not scared, then your hammie won't be either! 
4. Pretty soon your hammie will be running over your hand like it is just another toy. Time to stop for today!
5. Put your hamster ball back into the tub and let your hammie crawl in. Then hold the ball up to the cage door to let your hammie back into its cage. 
6. Give your hammie a nice treat and talk with your hammie encouragingly!
Day 2:
Repeat all of the steps of Day 1 then add these steps:
1. Try and get your hammie to go into the detergent cup (or any small cup) and gently lift it a little ways off the floor of the tub but not far. Now, with your other hand, make a little bridge for him to use to jump off of to reach the bottom of the play tub. Soon this will become a game and your hammie will crawl into the cup just to jump off your hand! See picture: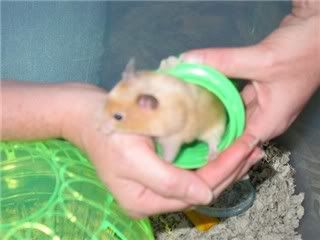 2. Continue with this until your hammie seems to be getting a little tired or hungry. You don't want to overdue it! Use the hamster ball to return it to the cage.
3. Give your hammie a nice treat and talk with your hammie encouragingly!
Day 3 and 4:
Repeat all of the steps of Day 1 and Day 2.
Day 5:
The big moment, here you get to really play and have fun with your hammie!
1. Setup your playpen and have it ready.
2. Go and get your hamster with the hamster ball and sit inside the playpen crossed legged. The playpen will prevent you from losing your hammie should it get away from you. Hold your hands in a cupped fashion under the opening of the hamster ball to make a large bridge, just as you did with the detergent cup with one hand. See picture.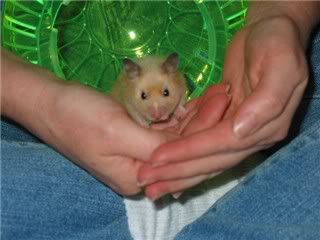 3. Now you have to be patient again. Your hammie might come right out and feel comfortable or might be a little shy. Once your hammie comes out just let it explore! Don't try and make it do what you want, let it do what it wants!
4. Soon you will be surprised that it is crawling all over you and you are having the time of your life. See picture.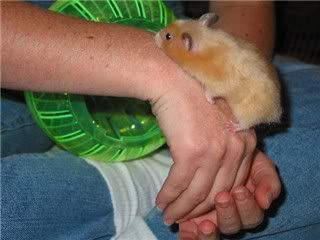 5. When you are done, again use the hamster ball. After all this time it is still my favorite mode of transportation throughout the house. I know that my little No Name can't get away from me in transit this way and I won't be frantic or guilty because I lost her!
6. Give your hammie a nice treat and talk with your hammie encouragingly!
CONGRATULATIONS!
Now you know how to train your hammie! I am sure some of you will be able to train your hammie faster, but many may have to take longer to tame your hammies! It is really up to your individual hammie! Let them set the pace!!! No Name took over a month to tame because she was so skittish, as was I, but Baby Girl was tamed in just 3 days because she was so outgoing and friendly! You have to remember that hamsters have personalities just like ourselves, so take your cue from them and before you know it you will have a loving bond between you and your hamster!
Good luck everyone! If you have any specific questions, please feel free to post your questions or PM me. I am always happy and willing to help!
~ Monkeysmom
Special credit is given to Baby Girl who is pictured in this taming section. She is now a part of the Rainbow Bridge....may she rest in peace in God's loving shadow!
Edited by Christmas_hamster, 12 February 2011 - 11:12 PM.