After running this idea through Wiffy and Dusty they very kindly let me go through with it. I got the idea off of some other forums and thought that it would be great for HH. Basically it is a thread for each member to post their deceased hamsters. Each member would post only once with information about their hamster such as:
-A Picture
-Name
-Date of Birth (D.O.B) or the day that you got them
-Color variety (Ex. Agouti, sable)
-Species
-Cage-mates (if any)
-Comments on behavior etc.
-Any illnesses, or health issues they had in the past
-Cage kept in
-A brief description
-Gender
-Date of Death (D.O.D)
To keep this thread organized there are a few things to remember:
-edit your post to add hamsters or other information, it is one post per member
-if you have any comments, suggestions or questions about how this thread works do not post it here but please PM (personal message) Wiffy, Dusty or another staff member.
-if you wish to ask a member a question or leave a comment about a particular member's hamster then please PM that member.
Keep in mind that any comments that are added will be deleted so please remember to PM instead.
The idea of this thread is to see everyone's hamsters, what kind of hamster they had, what cages they used, what health issues they have dealt with, etc. So that advice can be asked for based on experience. This is the exact same idea as the one in the Ham-Ha! I'm New! board but for deceased hamsters only.
Link to the Members Current Hamster thread:
Clicky.
-------------------------------------------------
A template and example: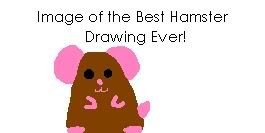 Name:
Hampton
D.O.B:
January 3, 2009.
Gender:
Male
Species:
Syrian
Colour:
Golden/Agouti
Cage Mates:
None
Behaviour Notes:
was very shy at first and did not enjoy human company for some time. He never bit me but he ran and hid away in his bed once he heard me near his cage. After some gentle taming he was soon comfortable enough to be handled.
Health:
had an abscess on his side, after seeking a vet's consultation I had it lanced and drained, it started to come back a little but with some epsom salt baths it soon healed nicely.
Cage:
20 gallon long aquarium.
Other:
Hampton enjoys running on his wheel all night, eating carrots and playing with me.
D.O.D
Hampton passed away January 3, 2010
Edited by Christmas_hamster, 24 February 2010 - 11:40 AM.