It seems that my Petco has started to have issues with keeping hamsters separated. My sister needed to buy cat treats (I was just in there yesterday getting hamster food and bedding and I didn't have time to look at the hamsters) and I stopped to look at the hamsters. I saw 2-4 Syrian hamsters together in every tank marked Syrian. Knowing I couldn't do much, I took some pictures of one of the tanks (the first one I noticed). When we went to pay I informed the cashier that these hamsters were in tanks together when they shouldn't be, especially when they were only 10 gallon tanks. I used words she could understand because most people that work there don't know what a Syrian hamster is. So I told her the large hamsters shouldn't be housed together or they will fight. She told me that the hamsters that can be housed together (meaning dwarfs) already fight and then left it at that. I thought they were actually a good Petco and I almost regret buying Sora there, but even if I do fall in love with their hamsters I'm not buying another hamster there again (and I fell in love with two dwarf boys that were white and so cute, I even fell in love with the two multi-colored ones down below). It even says on the little insert thing that they are best kept alone! Do these morons not know how to read? This is probably the reason they won't hire me, because they don't want accurate information. Anything to make a sale.
Only one picture turned out the way I wanted it to: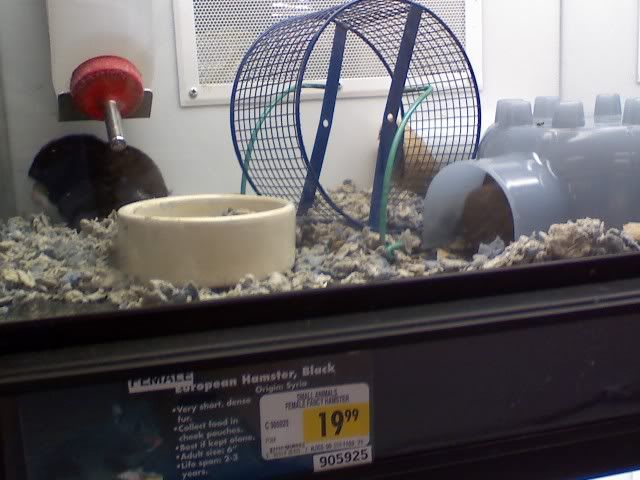 I did send an e-mail to their corporate offices. They do have a place on their website where you can make comments and concerns. I sent them the photo as well.
Edited by StarrySora, 19 September 2009 - 12:07 PM.